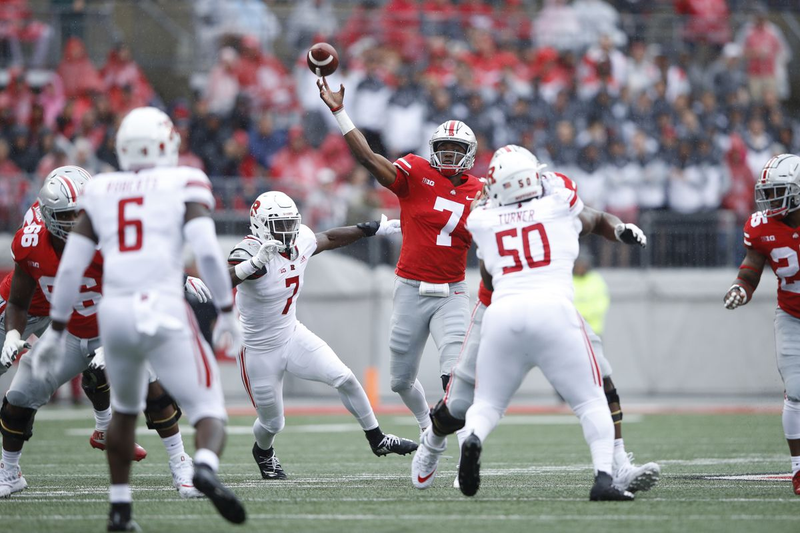 OMAC: (6-2 overall, 2-0 Game of the Week, 8 points, LW: 4-0, 1-0)

Game of the Week: Ohio State @ TCU (+13.5)
The Rest of the Slate: Vandy (+14.5) @ Notre Dame
BYU @ Wisconsin (-21.0)
Bama (-19.5) @ Ole Miss
BTW, does FSU come out of Syracuse with a win or not ? If FSU is going to wake up, this would be a good time to do so.
---
Neddy Ballgame: (5-3 overall, 1-1 Game of the Week, 6 points, LW: 4-0, 1-0)

TCU +13.5 vs. Ohio State
The Buckeyes will be fired up for their biggest game of the season, but TCU has been strong as well, absolutely pasting inferior opposition. The Frogs' defense is strong and should make the Buckeye's standout quarterback, Dwayne Haskins, a little uncomfortable, especially early.
Georgia Tech -4.5 vs. Pittsburgh
Pittsburgh just got obliterated by Penn State on the ground, allowing over six yards a carry. Georgia Tech is ornery and will run the triple option til the cows come home. Despite the loss of their starting B-Back Kirvonte Benson, I like the Yellow Jackets to pull away early and just sit on the Panthers in the second half.
Boise State +2.5 vs. Oklahoma State
This is a joke, right? Boise State has been slaughtering teams in cold blood all year. I can't stress this enough, Boise State put up over 800 fuckin yards on UConn. I know it's UConn but 800 yards is 800 yards. Oklahoma State has won their first two contests comfortably, but their new quarterback has thrown 3 picks to only six touchdowns. Boise State should come into Stillwater and kick the crap out of the Cowboys and then get no respect the rest of the season. Mark it down.
South Florida -10 vs. Illinois

Illinois STINKS! South Florida also has a Power 5 level quarterback in Blake Barnett. Bulls win big.
---
King of the North: (5-3 overall, 1-1 Game of the Week, 6 points, LW: 3-1, 1-0)

TCU +13.5 vs. Ohio State
Boise State +3.5 vs. Oklahoma State
Missouri -6 vs. Purdue
USF -10.5 vs. Illinois
---
Killer Mike: (2-6 overall, 1-1 Game of the Week, 3 points, LW: 0-4, 0-1)

GOW: Ohio State (-12.5) vs. TCU
The infamous question; Ohio State will win but will they covaaa? This is tough because Ohio State is always so explosive but TCU always has a hard nosed defense. At the end in prime time as much as it pains me Ohio State will out last them and I'll mute it as Kirk Herbstreet will be Brown-Nosing the whole game talking about "how much they've overcome" and "rallied around this coach" without Meyer being there. And how "this win really proves how much they want it and are capable of" all that will be missing is a tight end playing basketball in high school.
I went 0-4 last week so I'm going for easy wins this week (I know, I know)
Alabama (-21.5) vs Ole Miss
Clemson (-33) vs. Georgia Southern
Duke (+6.5) vs. Baylor
How is Duke not favored???
---
Scotty B: (3-5 overall, 0-2 Game of the Week, 3 points, LW: 1-3, 0-1) 

Game of the Week: Ohio State (-13.5) v. TCU
It pains me to pick the Buckeyes over anyone, but especially over TCU which has shown a lot of improvement on offense (QB Shawn Robinson has looked good) and whose defense has shown some of the spark that made it so ferocious several years ago. Still, my head wins over my heart on this one. Ohio State's offense is firing on all cylinders, and its defense is in full attack mode. The Horned Frogs will (I hope) keep it respectable, but the Buckeyes will keep the fun going at the First Down Factory.
For the rest of the slate . . . we'll saddled up and head west for Scotty B's Big 12 Round-up!

Oklahoma (-17) v. Iowa State
A shiver of dread went through the Boo-hooners when Oklahoma's star RB Rodeny Anderson went down. As bad as that is, the Sooners still has an efficient QB in Kyler Murray, a solid offensive line, and plenty of other offensive weapons. Iowa State's starting QB might be benched because of a knee injury and the Cyclowns running game isn't the most effective in the conference.
Kansas State (-21.5) v. UT-San Antonio
In the blowout loss against Arizona State and the defeat by Baylor, the Roadrunners have run up 238 offensive yards per game (the worst in Conference USA) and allowed 1,000 yards on defense. While K State's offense has not been lighting things up, the Wildcats should have enough to win—and cover—at home.
Duke v. (-6) Baylor
Duke's defense is rock-solid on third downs and has held opponents to 286 yards per game. That's the good news. The bad news is that Duke's QB Daniel Jones is out, and the back-up QB is questionable. Furthermore, the Blue Devil's running game has been . . . well . . . adequate. As for Baylor, the Bears have two warm-up games (sorry, UTSA) under their belt, and, while they're not looking anywhere close to the Art Briles version of Baylor, the numbers are looking stronger (e.g., 357 ypg in total offense). Keep an eye on the running game, anchored by JaMycal Hasty and John Lovett, on Saturday. It could be enough to keep Duke's D off-balance.
---
Nasty Nick: (3-5 overall, 0-2 Game of the Week, 3 points, LW: 2-2, 0-1)
USC +3.5 vs. Texas
USC 34 Texas 21 a rematch of the 2006 national championship game but this time, a little less hype. I expect the Trojans to bounce back after a tough loss last week against Stanford and will show the nation that they deserve to at least be in the top 25. Texas is no juggernaut this year, but a win for USC will allow them to get back on track to having a decent rest of their season.
Alabama vs. Ole Miss +21.5
Alabama 45 Ole Miss 35 another SEC West clash with a matchup that on paper looks like should be a blow out in favor of the Tide. Not so fast my friend. Ole Miss has given Bama fits in recent years due to their tall, athletic wide receivers who win battles against Alabama DB's. In the end, Alabama is just flat out better than the rebels, but I expect it to be a decent game.
LSU +10.5 vs. Auburn
Auburn 17 LSU 14 a classic early season SEC West matchup will showcase 2 of the top defenses in the country on Saturday afternoon. I give the slight edge to the navy and orange in this one due to their home field advantage in Jordan Hare. Don't be surprised to see another miracle late in this one for Auburn. Either way, the Tigers are going to win.
Ohio State -13.5 vs. TCU
Ohio State 55 TCU 31 this should come to no surprise, but both defenses will be exposed by the powerful offenses that will be on display in this contest. Ohio st outmatches TCU on all parts and will show why they are one of the best teams in the country. No Meyer, no problem.
---
Project Pat: (2-6 overall, 0-2 Game of the Week, 2 points, LW: 2-2, 0-1) 

LSU +10 vs. Auburn
Geaux Tigers
Boise State +1 vs. Oklahoma State
Ole Miss +23 vs. Alabama
Yes Ole Miss' defense is straight garbo but I just think Ole Miss is going to hang tough against Bama with that offense. 
TCU +13.5 vs. Ohio State
Urban Meyer knew and F*** Ohio State