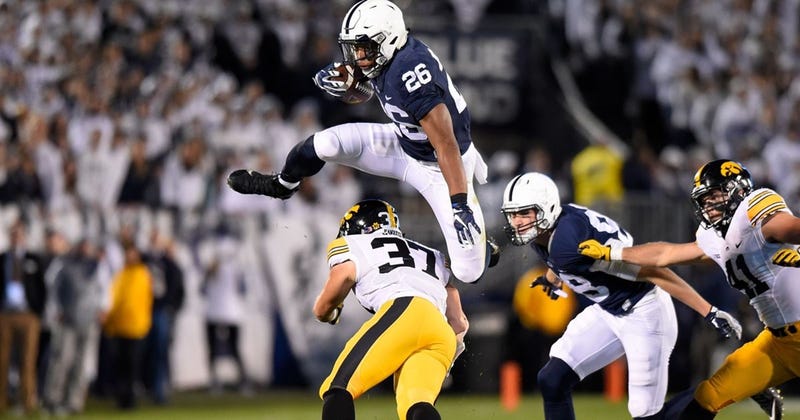 Project Pat: 30 points (24-8 overall, 6-2 Game of the Week, Last Week: 3-1, 1-0)

#2 Penn State +6.5 vs #6 Ohio State
Penn State is the real deal folks. PSS RB Saquon Barkley is phenomenal to watch. Buckeyes led Urban Meyer will put up a fight but the Nittany Lions will be victorious.
#9 Notre Dame -7.5 vs #14 NC State
Fighting Irish have come out of nowhere this year. I dunno who to credit. Def not Chip "Trash" Kelly.
#4 TCU -6.5 vs. #25 Iowa State
TCU is the only real hope for the disappointing Big 12 to get a spot in the playoffs. Hopefully,,,, they won't blow it this week.
#11 Oklahoma State -7.0 vs #22 West Virginia
BATTLE OF THE FOOTBALL GUYS. GAMEDAY BUCKET GO BOOM. MULLET MAN WINS BIG. MORGANTOWN BURNS DOWN.
---
Scotty B: 25 points (19-13 overall, 6-2 Game of the Week, Last Week 2-2, 1-0)

Penn State (+6.5) v. Ohio State
Most eyes are on both teams' offenses. And for good reason. Penn State has Saquon Barkley on the ground and an increasing potent aerial attack helmed by Trace McSorley. Ohio State's passing attack is red-hot, and J.T. Barrett has been exceptionally efficient. However, the Buckeyes' defense front is rock-solid against the run, and the Nittany Lions secondary is known to penetrate opponents' backfields and give QBs fits. Think less "offensive fireworks" and more "defensive struggle".
Now is the time of the year for ghosts, ghouls, and goblins. Now is the time for witches, black cats, and cold, creeping dread. Now is the time for Scotty B's ACC Monster Chiller Horror Theater! Just keeping telling yourself: It's only football. It's only football. BWAHAHAHAHAHAHAHA!
Miami (-20.5) v. North Carolina
The U's record belies the fact that three of its wins were hard-fought affairs—e.g., Georgia Tech. This week, however, it faces a defense that was steamrolled by a Virginia Tech offense that prompts more answers than questions and an offense that was thrashed by Tech's relentless defense.
Louisville (-3) v. Wake Forest
Lamar Jackson has put an OK team on his back all season. And he's carried it to the cusp of bowl eligibility. And put up some gaudy numbers. Wake's only hope of slowing down the Cardinals is to get into the backfield and stop Jackson before he starts. Look for Jackson to be the stuff of Wake's nightmares instead.
Virginia Tech (-15.5) v. Duke
The VT defense is its old formidable lunch bucket self, shutting down offenses, generating turnovers, and scoring points. Against a weak Duke offense, it will give Tech's still-questionable offensive unit plenty of opportunities to show the Hokie faithful that it finally has broken the code.
---
OMAC: 24 points, (19-13 overall, 5-3 Game of the Week, Last Week: 2-2, 1-0)

Week-9 ... Project Pat continues atop the Game Daze crew; nice job Pat. If last night's Stanford-Oregon State game was any indication
of how this week is going to go (Stanford favored by 21 points and had to pull it out of their a$$ with 20 seconds to go) then it's time
to "strap it up, and strap it up tight".

Game of the Week: Penn State (+7.0) vs. Ohio State.
The Rest of the Slate: BC (+5.5) vs. FSU

It's going to be 45 degrees tonight at Chestnut Hill ... BC will need everything they can call on to keep it tight.

Georgia (-13.5) vs. Florida

This is a *must* win for UGA and they also need to make a big time statement - Do they belong in the playoff conversation; a BIG win here starts setting the stage for the ultimate SEC showdown.

Virginia Tech (-15.5) vs. Duke

Hokies better be wary here ... Duke can still surprise and, just like Georgia, VT needs to keep winning and winning BIG.

P.S. A game I almost took, but I didn't have an air-sickness bag: Vols (+3.5) vs. Kentucky ... I couldn't decide who was worse
---
Prowler: 24 points (18-14 overall, 6-2 Game of the Week, Last Week: 3-1, 1-0)

Running with the dogs this week!
BC +5 vs Noles
Jimbo's buyout is $39,312,500 Unreal!
WVU +7 vs The Mullet
Both coaches buyouts are over $10 million
PSU +6.5 at Suckeyes
Urban Meyer has 3 national titles, yet Franklin has the bigger buyout at $21,858,333. Wow!
UGA -14 vs Gator Meat
Jim McElwain's buyout is almost $13 million. Good for him because his team isn't very good.
---
Neddy Ballgame: 21 points (17-15 overall, 4-4 Game of the Week, Last Week: 3-1, 1-0)

Ohio State -6.5 vs. Penn State

I hope Penn State blows Ohio State's doors off so I'm going to reverse jinx it and pick the Buckeyes. Chess not checkers folks.
Notre Dame -7.5 vs. NC State
NC State has a great defense but is susceptible to giving up big plays and Notre Dame thrives on those big chunk plays. NC State's wins look worse every week to boot. Louisville is a mess. Florida State is a mess. And lest we forget, they did lose to South Carolina.
Indiana -4.5 vs. Maryland
The Terps are a mess right now. Sigh.
Georgia -14 vs. Florida
Florida is complete and utter ass.
---
The King of the North: 20 points (17-15 overall, 3-5 Game of the Week, Last Week: 0-4, 0-1)

Penn State +6.5 vs Ohio State
Michigan State -3 vs Northwestern
TCU -7 vs Iowa State
Wisconsin -26.5 vs Illinois
---
Nasty Nick: 18 points (16-16 overall, 2-6 Game of the Week, Last Week: 2-2, 0-1)

Penn State +7 vs. Ohio State
Ohio St 30 Penn St 24 this might be the game of the year. Ohio State has a lot to make up from their early season loss to Oklahoma (especially since Oklahoma seems less and less impressive with each week that goes by). Not to mention the fact that it's also a revenge game from the blocked field goal returned for a Teeder in last years meeting between the 2 B10 East powerhouses. A lot to lose for both Penn St. and Ohio State in this one. I'll give the nod to coach Urban Meyer in this one
Georgia -13.5 vs. Florida
Georgia 24 Florida 10 "The World's Greatest Cocktail Party" will swing back in the way of the Dawgs this year after Florida has won this rivalry game the last couple of seasons. Florida's stout defense will keep Georgia's offense under it's season average in most categories, but per usual Florida's lack of a decent qb will keep them out of the game. Dawgs on top in this one and will jump to 2 after a Penn St loss
Oklahoma State - 7 vs. West Virginia
Oklahoma St 44 West Va 30 in a classic Big 12 shootout. No surprises here as there will be absolutely 0 defense and quick scores on both sides. Gotta give the slight edge to the #11 team in the country.
Notre Dame -7.5 vs. NC State
Notre Dame 27 NC State 14 Notre Dame looked might impressive last week blowing out USC. NC State will make a respectable performance but their weaknesses will show like they did week 1 against the Gamecocks. Notre Dame can place a W on the board and head to their next big challenge
---
Killer Mike: 18 points (15-17 overall, 3-5 Game of the Week, Last Week: 3-1, 0-1)

Memphis (-12.0) vs. Tulane
South Carolina (-6.5) vs. Vandy
Louisville (-3) vs. Weak Forest
No real reason, I'm still a big Lamar fan
Penn State (+6.5) vs. Ohio State
This is a toughy, I feel no matter who I pick I lose; Ohio State really shows how good it is or Penn State going to keep it close?