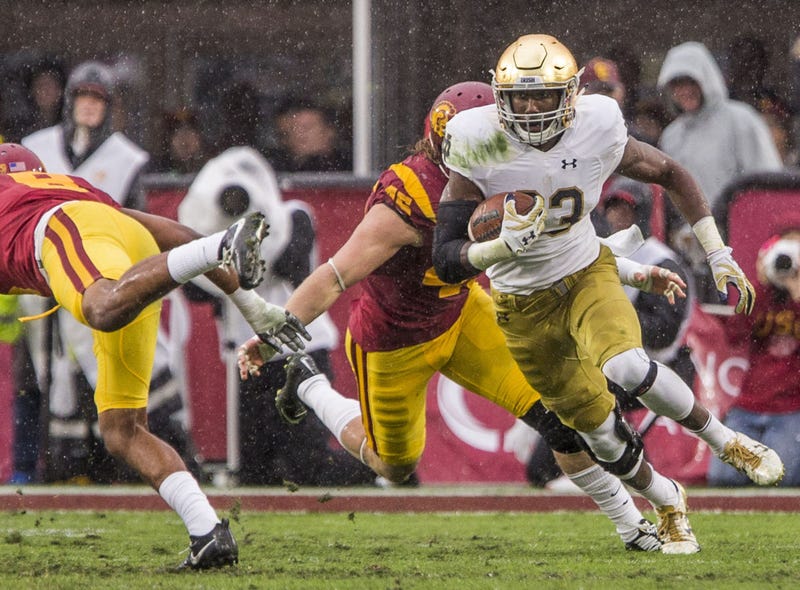 Project Pat: 26 points (21-7 overall, 5-2 Game of the Week, Last Week: 4-0, 1-0)

Notre Dame -3.5 vs. USC
Notre Dame is surprisingly dominant on all fronts of the ball this season. Brian Kelly's bum ass is at least doing good though. USC is led by turnover machine QB Sam Darnold, he's not going to fare well against the Fighting Irish. ND still racist tho, Ned.
Penn State -9.5 vs. Michigan
Michigan isn't gonna do squat with that Collegiate Coug behind center.
#25 Memphis (+2.5) vs. Houston
Roll Tigers
#10 Oklahoma State (-7.0) vs. Texas
hahahahahahahaha how is Texas a 7 point dog???
---
Scotty B: 22 points (17-11 overall, 5-2 Game of the Week, Last Week 2-2, 0-1)

Notre Dame (-3.5) v. USC
Who thought, at the season's beginning, that this game would have playoff implications? Me neither. The Trojans aren't all they were cracked up to be in the preseason, but, for the Irish to win, everything needs to break their way—e.g., turnovers. They also need to be resilient. As to the former, well, trust to Irish luck. To the latter, in its loss to UGA, ND showed a toughness that it hasn't displayed in quite some time. At home, it could get them the win.
For the rest of that slate, Scotty B looks westward to Colorado and embarks on a Rocky Mountain High Weekend.
Washington State (-9.5) v. Colorado
Air Force (-6.5) v. Nevada
Colorado State (-6.5) v. New Mexico
---
OMAC: 21 points, (17-11 overall, 4-3 Game of the Week, Last Week: 3-1, 1-0)

Week 8 — After last week's crazy outcomes who knows what may happen and what teams may get a reality check ... One thing's for sure in College Football —
Nothing's for sure.

Game of the Week: Notre Dame (-3.5) vs. USC

This is basically a pick'em game ... Both teams, for the first time in a
while, are actually ranked going into the game. All of you know I'm not a
Toe-Jam fan.

The Rest of the Slate: Virginia Tech (-21.0) vs. UNC

UNC is depleted by injuries and as of today they're not sure who will start under center. This is Tech and Fuente's chance to *finally* get the offensive unit cranked-up and put some points on the board. Not only does VT need to run the table from here on out, but they need "style" points. Beating a beleaguered team like UNC, at home, by 7 to 10 points isn't going to cut it.

Army (-5.5) vs. Temple

You know what Army is going to do — That's right — Run, run, run. Go Black Knights.

USF (-11.0) vs. Tulane

Bulls are averaging 42.8 points a game ... Tulane will be a tougher nut to crack,
but it's a nut that needs to be cracked if USF wants respect.
---
The King of the North: 20 points (17-11 overall, 3-4 Game of the Week, Last Week: 2-2, 0-1)

USC +3.5 vs. Notre Dame
USF -12 vs. Tulane
West Virginia -9.5 vs. Baylor
Utah -10 vs. Arizona State
---
Prowler: 20 points (15-13 overall, 5-2 Game of the Week, Last Week: 2-2, 1-0)

Notre Shame -3.5 vs. USC
West Virginia -10 at Baylor
Cuse +14 at The U
Mizzou -14 vs. Idaho
---
Neddy Ballgame: 17 points (14-14 overall, 3-4 Game of the Week, Last Week: 3-1, 0-1)

Notre Dame -3.5 vs. USC
I'm trusting my sweet Irish boys to top the Trojans on Satuday night. I will no doubt be let down, but it's fun to be optimistic!
Alabama -36 vs. Tennessee
This is in Tuscaloosa, the Vols have all but quit, plus, Bama is pretty good too I guess. Who can say?
Penn State -9.5 vs. Michigan
Michigan can't score. Penn State, uh, is like the best in the country at that particular aspect so I can't see this game going so hot for the Fightin' Harbaughs.
Kentucky +13 vs. Mississippi State
Feeling good about the Wildcats. Kentucky is riding high so of course they will probably lose this game by four touchdowns.
---
Nasty Nick: 16 points (14-14 overall, 2-5 Game of the Week, Last Week: 2-2, 0-1)

USC +3.5 vs. Notre Dame
Notre Dame 34 USC 31 Will go down as one of the classics in history of this series. Sam Darnold will have a decent game, but Notre Dame will keep this year's streak alive with only a one-point loss to Georgia that looks better and better every week. Watch out for Notre Dame for the playoff picture
Michigan +9.5 vs. Penn State
Penn State 28 Michigan 21 will have a similar feel to the game that Penn State won at Iowa a couple of weeks ago with a last second TD.
LSU -7 vs. Ole Miss
LSU 38 Ole Miss 17 don't get too excited about LSU's offense after this weeks performance against a very piss-poor defense. LSU's defense will look impressive however against a pretty dynamic and explosive Ole Miss offense
Syracuse +17.5 vs. Miami
Miami 32 Syracuse 27 Syracuse will be feeling pretty confident after the upset of the year last week against Clemson. Miami will play in usual fashion by making big time plays in the final minutes of the 4th quarter. This might be the game of the week
---
Killer Mike: 15 points (12-16 overall, 3-4 Game of the Week, Last Week: 3-1, 1-0)

Auburn (-15.5) vs. Arkansas
Arkansas lost to South Carolina by 26 points
Suck it Bielema! Your team stinks and we're (Wisconsin) #5 right now
Alabama (-37.0) vs. Tennessee
I usually don't like picking Bama but Tennessee is bad. Also I need points
Virginia Tech (-20.5) vs. UNC
I'll be at this game so why not?
USC (+3.5) vs. Notre Dame
This time I hope history does not repeat itself where Notre Dame blows another big game when they need to win. BUT no matter my hopes, I think it will. (sorry Ned) [Editor's Note: Rude].