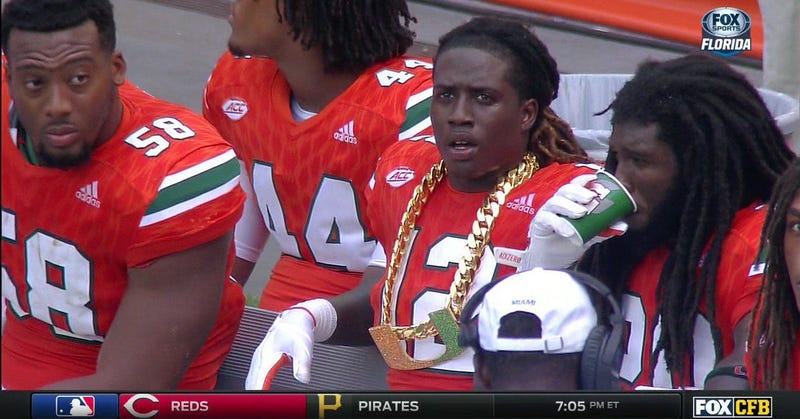 Project Pat: 21 points (17-7 overall, 4-2 Game of the Week, Last Week: 3-1, 1-0)

Georgia Tech +6.5 vs. Miami
Turnover Chain won't be making an appearance against the triple option
TCU -6.5 vs. Kansas State
Kenny Trillitcity.
Michigan State -4 vs. Minnesota
Sparty over Golden Gophers big.
#25 Navy +3.5 vs. Memphis
Navy is tight. Elvis sucks.
---
Scotty B: 19 points (15-9 overall, 4-2 Game of the Week, Last Week 2-2, 0-1)

Game of the Week: Georgia Tech (+6.5) v. Miami
After sending the Noles packing, Miami entered the discussion in the ACC and was awarded the #11 slot in the polls. But The U paid a price: a banged-up team on both sides of the ball. Paul Johnson will want to make the most of the situation, but the key is to keep Miami's defense out of the Georgia Tech backfield. Expect a close game—that GT just might win.
For the rest of the slate, Scotty B opens a box of Animal Crackers.
Washington (-17.5) v. Arizona State
The Sun Devils probably are hoping that their O line can buy QB Manny Wilkins enough time to connect with receivers like N'Keal Harry. It's not a bad idea seeing as Wilkins has generated 1,452 yards. However, the Dawgs of UDub—who have allowed ten points per game—have a pass rush that will keep Wilkins on the run. The Huskies' strong O-line will give QB Jake Browning opportunities to add to his already impressive 14 TDs and clear the way for the power running game spearheaded by Myles Gaskin (559 yds. and 8 TDs).
Georgia (-27) v. Missouri
Under Marc Richt, Georgia had a great future. And always did. Under Kirby Smart, the future is now—and the Dawgs are a legit contender for the SEC crown—and the playoffs. Some people are citing some of Mizzou's numbers—e.g., 469 yds. per game—as proof that it will mount an effective challenge. Here's another number: 16. That is the points per game Mizzou has scored against Power Five opponents. Can you imagine Mizzou's weak D containing RBs Nick Chubb and Sony Michel or ruffling the seemingly imperturbable QB Jake Fromm? Me neither.
Oklahoma State (-25.5) v. Baylor
In the Big 12, two teams that aren't mentioned in championship discussions: Kansas and Baylor. While the Jayhawks are perennially hapless, the winless Bears just might be temporarily so. The Baylor offense has been showing some life of late, thanks in large part to QB Zach Smith who stepped into the position in Week 3 and who threw 468 yards against the Sooners. The story of the day, however, will be an offensive performance—Mason Rudolph and Justice Hill won't crack a sweat and will hit 300 yards in the air and 100 yards on the ground, respectively—that will overwhelm Baylor's defense.
---
The King of the North: 18 points (15-9 overall, 3-3 Game of the Week, Last Week: 4-0, 1-0)

Miami -6.5 vs. Georgia Tech
WVU -3 vs. Texas Tech
ECU +35.5 vs. Central Florida
Utah +13 vs. USC
---
Prowler: 17 points (13-11 overall, 4-2 Game of the Week, Last Week: 1-3, 0-1)

GT +6.5 vs. Miami
Air Force -7.5 v UNLV

UGA -29 v mizz

A&M +2.5 at UF

---
OMAC: 17 points, (14-10 overall, 3-3 Game of the Week, Last Week: 2-2, 0-1)

The mid-season corner has been turned and "King of the North" is on a roll ... Nice job King !

Game of the week: GT (+6.5) vs Miami
This was a game I was going to avoid ...

The Rest of the Slate: NC State (-10.0) vs Pitt
ACC knife fight.

Auburn (-6.5) vs LSU

Since I picked Auburn that means LSU rises up at home and stuns the visitor ... ?

Air Force (-3.0) vs UNLV
This could go either way.
---
Nasty Nick: 14 points (12-12 overall, 2-4 Game of the Week, Last Week: 0-4, 0-1)

Miami -6.5 vs. Georgia Tech
Miami 38 Ga Tech 27 Miami will be hype off of last weeks thriller in Tallanasty. GT's Triple Option will put up some points, but in the end they won't be able to stop the U's offense. Not a whole lot of defense in this one
South Carolina +2.5 vs. Tennessee
South Carolina 31 Tennessee 20. Tennessee's offensive woe's will continue at home as Carolina's defense seemed to show a lot of promise last week against Arkansas. South Carolina is also finding other weapons on offense since Deebo Samuel's season-ending injury a couple of weeks ago. Could this be the last time we see Butch Jones in the Tennessee Orange? I think yes.
Oklahoma -9.5 vs. Texas
Oklahoma 52 Texas 17. Texas does not want to face a pissed off Oklahoma team coming off an upset last week. Texas will prove once again that they have a lot of work to do, and Baker Mayfield will prove to his critics that he very much deserves to be in the Heisman discussion.
Auburn -7.5 vs. LSU
Auburn 19 LSU 6. One of those classic defensive showdowns in the SEC will occur in Baton Rouge and the crowd will rattle Stidham. He'll throw a handful of interceptions, but as expected LSU's god awful offense won't move diddly squat. Auburn will survive the real Death Valley tomorrow.
---
Neddy Ballgame: 14 points (11-13 overall, 3-3 Game of the Week, Last Week: 3-1, 0-1)

Miami -6.5 vs. Georgia Tech
Playing a triple option team the week after an emotional road win is not exactly a recipe for success but maybe head coach Mark Richt can get the Hurricanes ready for an offense he saw for years at Georgia. Or maybe he'll lose to the Jackets like he did at Georgia. Who can say?
Virginia -3.5 vs. North Carolina
I'm actually pick UVA in a game. Not so sure how I feel about that one. But, UNC has like three and a half healthy players and looks completely flat on a week to week basis.
West Virginia -3.5 vs. Texas Tech
Texas Tech is riding high, ranking in the Top 25 for the first time in what feels like forever, but I have a feeling West Virginia's explosive offense is going to ruin their fun. Plus it'll be in Morgantown, so you have to like the Mountaineers there.
Stanford -10 vs. Oregon
Oregon has injuries all over their offense and the defense is still a huge question mark. Brew a big pot of coffee for this one, it's a 11:00 eastern kickoff. Bonus points if you can make it past halftime.
---
Killer Mike: 11 points (9-15 overall, 2-4 Game of the Week, Last Week: 2-2, 0-1)

GT (+6.5) vs. Miami
TCU (-6.5) vs. KSU
Georgia (-29.5) vs. Mizzou
West Virginia (-3) vs. Texas Tech