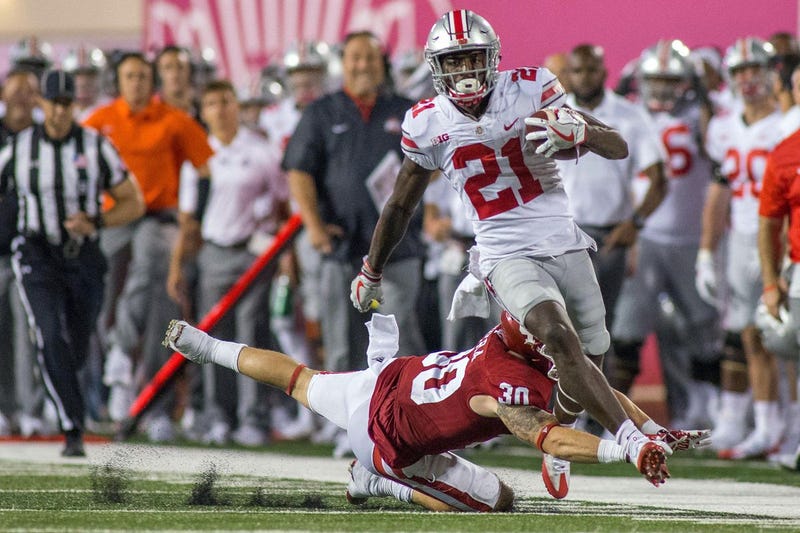 Project Pat: 5 points (4-0 overall, 1-0 Game of the Week)

#5 Oklahoma +7.5 vs. #2 THE Ohio State. Last years matchup was fought and won in the trenches. Oklahoma is without star RBs Perine and Mixon (NFL) but still has Heisman hopeful Baker Mayfield. However, OSU will squeak away with a W through play from QB J.T. Barrett and RB Dobbins.
#3 Clemson -5.5 vs. #13 Auburn. Dabo will lead his boys in Death Valley with strong play by Kelly Bryant, who is the real deal.
#24 Notre Dame -5.0 vs #15 Georgia. Georgia has been a mess for years, and they will fall to the Fighting Irish this weekend. Even though ball coach Brian Kelly is a hack.
#6 USC -6.0 vs #15 Stanford. QB Sam Darnold will bounce back and get the Trojans rolling over the lame ass Trees.
---
OMAC: 5 points, (4-0 overall, 1-0 Game of the Week)

Hats off to all the Game Daze crew — Everyone got on the board — Based on some of the whacky results of last week's contests it's going to be a long season.

Game of the Week: Oklahoma (+7) vs. Ohio State

I know it's Ohio State at home ... Did I mention I like Kool-Aid.
Louisville (-10) v. UNC:
Louisville and UNC didn't do much to impress last week ... This might be a game that could turn into an "Air Show".
Indiana (-3.0) v. UVA:
If the Hoos want a chance at this one, they can't let the Indiana "O" get into the type of rhythm that Indiana was in during the first half of last week's Ohio State game. Hopefully UVA watched plenty of tape and realize they can't let their corners get isolated one-on-one with Cobb.
Navy (-12.0) v. Tulane:

Tulane played Navy tough last year and lost a close contest at home, but Navy *is* tougher to handle in Annapolis. It should be a another good, entertaining game.
PS: A game I almost took (but I didn't have the nuts to take) is UGA (+5) v Notre Dame ... UGA "pounds-the-rock" in this game and might even have a shot at shocking the Irish in their own house.
---
Prowler: 4 points (3-1 overall, 1-0 Game of the Week)

It's a ROAD WARRIOR week
Boomer Sooner +7.5 at Suckeyes
Hopefully this isn't a dud like last year's beatdown.
Navy -13 vs. Greenie Weenies
Zach Abey is a baller for Midshipmen.
Stanford +6.5 at Trojans
USC has given up 628 yards rushing in their last 3 games.
UTSA +17 at Baylor
Lots of problems in Waco
---
Scotty B: 4 points (3-1 overall, 1-0 Game of the Week)

Game of the Week:
Oklahoma (+7) vs. Ohio State
The Sooners' QB Baker Mayfield creates more magic than Gandalf. Last week, in Oklahoma's tune-up on UTEP, he threw 19-20 for 329 yds. and three TDs before sitting out the second half. Sure, the Buckeyes trampled Indiana in the second half of last week's game. But, I'm guessing that Oklahoma will have plenty of gas in its tank after the half.
Week 2 . . . Scotty B heads west for all Pac-12 weekend
Oregon (-13) v. Nebraska
A few are saying that Oregon's questionable D might not be able to hold back Nebraska's offense. Maybe. But, the Ducks aren't the only team with defensive problems: last week, Nebraska's defense allowed Arkansas State 415 yards passing. Last week, Oregon QB Justin Hebert and his receivers connected for 281 yards and a TD (17-21, by the way), and RBs Royce Freeman and Kani Benoit rang up more than 250 yards and seven scores. I'll go with Willie Taggart on this one.
Washington State (-10) v. Boise State
A perennial punchline for years, Wazzu is a Top 25 team. While I have respect for the Bronco's offense and its defensive secondary, Wazzu's D is just as strong as it was last year. If it can rattle BSU QB Mark Rypien and close down the running attack, then Washington State's potent aerial attack will have the time to crank out yards and points.
Minnesota (+2.5) v. Oregon State
Oregon State, you're a PAC-12 team, and I love you. But, as Prowler and OMAC know, *never* go against the Golden Goofers
---
Neddy Ballgame: 3 points (2-2 overall, 1-0 Game of the Week)

Ohio State -7.5 vs. Oklahoma
I reallllly want to pick the Sooners, but I feel that the Buckeyes will roll at home. Boo.
Notre Dame -5 vs. Georgia
True freshman QB starting his first ever game against a Top 25 team on the road? Yea, give me allllll of that action.
Oregon -13 vs. Nebraska
Nebraska let Arkansas State put up 36 points and 497 total yards on them in Week 1. Oregon is, well, better at offense than Arkansas State. Ducks roll at home.
Wisconsin -32 vs. Florida Atlantic
FAU allowed 6.1 yards per attempt last week against Navy. Wisconsin is bigger and meaner and likes to run the ball just as much. Have fun with this one, Lane!
---
The King of the North: 2 points (2-2 overall, 0-1 Game of the Week)

Pitt +22 @ Penn State
UGA @ ND -5
Stan +6 @ USC
OU @ OSU (-7.5)
---
Killer Mike: 2 points (1-3 overall, 1-0 Game of the Week)

Ohio State (-7) vs. Oklahoma
Although this hurts I'll feel better on Saturday by choosing Ohio State
Well it's my birthday on Saturday so I thought I'd choose my favorite teams, I hope I get a good birthday wish!
Wisconsin (-33.5) vs. FAU
On Wisconsin!
Army (-16.0) vs. Buffalo
Go army beat Buffalo
SMU (-14.0) vs. North Texas

Why SMU? I want a good success story ever since the death penalty ended
---
Nasty Nick: 1 point (1-3 overall, 0-1 Game of the Week)

Ohio State -7.5 vs. Oklahoma
Ohio State 42 Oklahoma 17. Big 12 can't hang
Clemson -5 vs. Auburn
Clemson 31 Auburn 21. Auburn puts up a good fight but Clemson is at home and that place will be lit as hell
Stanford +6 vs. USC
Stanford 28 USC 24. This one will come down to the wire but Stanford is more physical and will own the 4th quarter and the line of scrimmage
Notre Dame -5 vs. Georgia
Notre Dame 27 Georgia 21 the fact that it's in south bend I gotta give the slight edge to the Irish. This is a tough call though