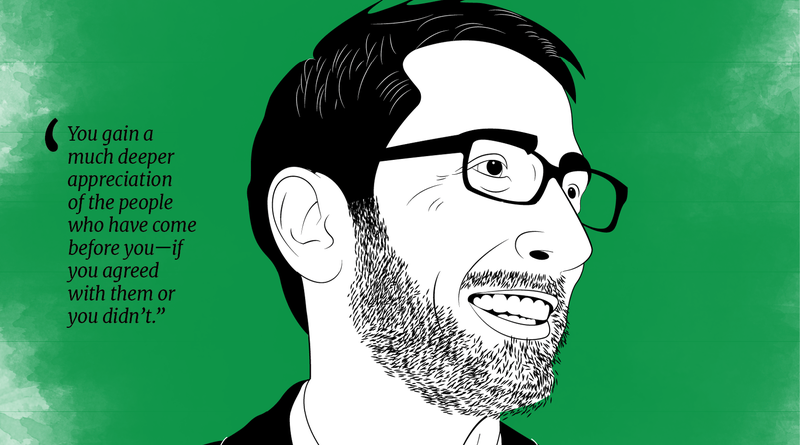 CITY HALL — You can't help but feel the optimism in Mayor Tom McNamara's voice when he talks about his hometown. The 34-year-old ran a campaign of promise, and one built on a positive message for the future of Rockford, Illinois' third-largest city.
Looking back on his first 100 days in office, it's easy to say the results have met the message. McNamara has given us in the media an open and accessible City Hall. An approachable demeanor. A willing partner in explaining the goings on of Rockford to the community.
It's worth noting that McNamara is perhaps uniquely qualified for the post. The former alderman represented one of the city's most diverse wards, and being the son of an ex-mayor has given him an insight few have. That's not to say much was gained in youth from seeing his father in the role: the younger McNamara was only 6 when John left office in 1989.
But speaking Tuesday, Rockford's newest mayor has found a fresh appreciation for those before him, and those who surround him in his post. In a wide-ranging interview lasting nearly an hour, McNamara discussed growing up as the son of a politician; learning the ropes in the City Council; the need to fulfill promises made on the campaign trail; and the importance of appreciating the work done by those before.
For this, we've eschewed our normal interview format. We've decided to show you our prompts and let Mayor McNamara paint the picture of his first 100 days in his own words.
---
On the biggest challenges of his first 100 days: "I was sworn in on a Monday. Got into City Hall Tuesday morning, around 6-6:30 a.m. By Friday, I have a baby son. So, having a newborn and – at the time – a 14-month-old, as well as an incredibly important new job with a lot of responsibility—those first two or three weeks, where I'm making sure I keep family No. 1 but also giving the citizens 100 percent of my time, too—that was really difficult. But also really rewarding."
On the steep learning curve of taking office: "There are so many different issues that pop up – things you can't ever dream of – that are going to happen in a given day. Working through those with the community and staff, but also continuing to drive forward on some of the initiatives and the agenda items and holding true to what you ran on, it's difficult. That balancing act of making sure you're addressing those storms that pop up out of the blue—at some point today, something is going to come to my desk that I wasn't aware of, and it will stop me from moving forward with what I want, what the community wants, what the council wants. Balancing that act is the real challenge."
On filling staff and committees in City Hall: "I think we're doing well. I think there are almost 40 (committee posts) that have been appointed or reappointed. There was a small number that City Hall had the wrong dates (of term) for, so that brought the number down a touch. What we've done is outlined all the appointments by when they're due, and we have asked the community who wants to be part of these and then laid out a plan of where they could be. The other thing is, we didn't want to make wholesale changes. There should be some continuity to these boards. Some of them are specifically supposed to be staggered, like the Police and Fire Commission. That board should be staggered for the people that we're hiring and the people that we're promoting. But also for the people who are serving on those committees. So there are some of these boards where we won't have all of our appointments for probably six or eight months. We have to make sure that institutional knowledge isn't just gone. And we've built a list of people who, maybe they couldn't sit on this specific committee, but maybe their skills could benefit the city in another role. It's a bit of a balance and a bit of a struggle all at the same time."
On the Financial Task Force working to find solutions to the city's budget deficit: "We're at the stage where, today (Tuesday) is the last day for city departments to give them presentations. Their first two sessions were basically, 'This is how the city operates; these are the different funding mechanisms.' Just an education. After that, we've been having a session every week with the various departments–fire, public works, police. Then it's the transition into those meetings of, 'We've listened to the information provided of what the departments do, where their money comes in from and where it goes out to. Where do we see the efficiencies?' I think we'll be seeing the shift over the next three-to-six weeks. I have to give them a lot of credit because I didn't expect them to meet every single week. It's been pretty impressive."
On marketing city-owned and undeveloped/under-developed properties: "These?! (Grabs a stack of 11×17-inch papers off a shelf.) Oh, these?! Some of the ones that are easier to get rid of – that could more easily take advantage of the historic tax credits – we're getting a list of those ready. (Note: A bill to extend the River Edge historic tax credit program through 2022 has been on Gov. Bruce Rauner's desk since early June.) When the governor signs it, we want to be pretty immediate to the market. We want to say, 'Take advantage of this.' We want to put attractive proposals together."
On the proposed Barber Colman redevelopment: "I think right now, it's certainly a project we're spending a lot of time and attention on. It's pretty unique. Those buildings at one point, they were held up as Rockford's success. Now they're held up as Rockford's demise because they've been vacant for so long. So to bring those buildings back, so that we are training and educating the next generation of our workforce—every single city in the country is going to offer developers tax abatement and TIF (tax increment financing). Few cities are able to provide what employers need the most: a workforce that's qualified to do the work that they need. So I think the project really stands out and says, 'We've been listening and we've been hearing what the business community in Rockford needs.' And not just what the business community needs, but what our residents need. The other unique part is just where it's located: southwest Rockford. To build off the investments the city has made on State and South Main streets; to build off the potential with the Amerock hotel there; the airport is just up the street; the new fire station; the new SwedishAmerican clinic; it's just an area that's really starting to take off. And we really have to give credit to Mayor Doug Scott, Mayor (Larry) Morrissey and even Mayor (Charles) Box for that. It's a great collaborative effort across the city and with our community partners, like Mike Dunn, Jr. at the (Rockford Metropolitan Area Planning Agency)."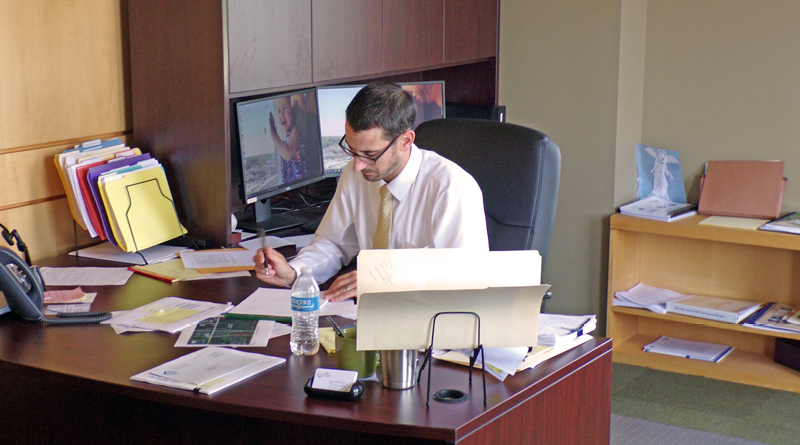 On the efforts to implement a new landlord registry ordinance: "It's been slow; I'll just be upfront. I haven't moved too far on it. But that one is interesting because I've had some dialogue with Paul (Arena, past president of the Rockford Apartment Association). I want Todd (Cagnoni, City Administrator) to be in on that. We have some landlords who just aren't respectful of the people who live in their properties or who live next to them. There has to be a way we can craft this ordinance so it has some teeth and that we're focusing on the worst of the worst of the city's landlords. And we have to do it so that we're not hindering the landlords who do a good job."
On losing tax revenues to Springfield: "We estimated we'd lose about $1.5 million. It could go up to $1.8 million but right now we're looking at one-point-five. And now we estimated that the extra 2 percent the state is taking–it'd be around $375,000 or $374,000. (As part of the state's new budget, an extra 2 percent of locally collected sales tax funds are being kept in Springfield.) To put that in context, that's the amount of money we provide for all the roads in one of our wards. So it's not insignificant. They've just pulled funding for 1/14th of our neighborhood streets."
On Springfield saying it will return tax revenues to cities faster under the state's new spending plan:"We're encouraged they'll be giving us money faster, but I don't get real encouraged when people give you less money faster. I don't think that's something to get excited about."
On his campaign pledge to fight domestic violence: "We've not started really working with our other partners right now. I know when I campaigned, we said, 'A mayor's office on domestic violence.' Having more time to look at what that should be, we're not sure if it should be an office or a program. During the campaign, we talked about having someone grow into this position. It'd be a liaison between the police, community partners. It'd be a person finding moneys for our department, working with the department, getting into schools and neighborhoods. We don't know if we should just jump in both feet and say we have to have a full-time position right now. We're moving forward, but we're making sure it's the right way. Since becoming mayor, I've found there are ways other communities pay for these positions that I didn't know about when I was campaigning. So is it best practice to jump in both feet or smarter to–how I campaigned with this slow push towards it? I'm leaning towards jumping both feet in because it's not going away."
On gunshot detection and implementing other police tech: "I don't think gunshot detection alone will reduce crime. I think (Police Chief Dan) O'Shea, and I don't want to speak for him, what we are proposing is not simply gunshot detection software. What gunshot detection alone will do is show us there's an increased number of gunshots being fired in our city. We're going to see that. But it's a deterrent. And it helps us find out where this is happening. When I was campaigning, there was an incident with shots fired on Camp Avenue. And only two of the five or seven people I talked to said the shots came from relatively the same area. So gunshot detection will work with our pan-tilt-zoom cameras. It will work with our license plate readers. I think if you pull all those together, we have a much smarter police department that has a much better opportunity to improve our outcomes."
On the development of the Amerock hotel project: "Both sides are meeting their end of the agreement. (Gary) Gorman and his side have worked to make sure their capital stack is all where they want it to be. I was excited to see that the work was starting to be done with shoring up the exterior. We meet with (Gorman and Co.) every single week. Their staff has come in. They're talking with local stakeholders, they're talking to local residents, they're getting tours of the area, they've gotten more acclimated. That's all promising. And from the city's end, we're going to do everything to fulfill our end of the agreement."
On the immediate response to the Hanley fire: "I was blown away. That happened Sunday, just after lunch. I had an event that morning and then me and my wife had the entire day, just nothing to do. I think it was our first afternoon where we were like, 'We have nothing!' So we get the kids, get the stroller. We get about five houses down the street on a walk and I get a text from Justin (Fern, president and CEO of Urban Equity Properties and owner of the Hanley building) that says, '911. Emergency. Call me.' So I tell Sarah I've got to call him, he tells me it's on fire, I think, 'All right, it's on fire, I get it.' Then I got a call from Todd. Then I got a call from (Fire Chief Derek) Bergsten. Then I got a call from Thaddeus (Mack, City Building Code Official). Then another call from Todd, another from Chief Bergsten, then Chief O'Shea. We literally went another four doors and turned around. I was really impressed. Water, Building, Police, Fire, city administrator, Wester Wuori my chief of staff—everyone drops everything and starts trying to solve the problem. It was really remarkable to see how organized they were, how professional they were, how they just went about business."
On the subsequent days of dealing with the Hanley fallout: "What was eye-opening was the process throughout, starting the day after. Hearing from the community and trying to make sure the community knew—you know, we very quickly had hundreds of arson experts in our city. But you have to follow an investigation, and you find a new respect for someone like Chief O'Shea who every day has to stand in front of a reporter and wants to tell them what's going on, and you just can't. Citizens want to know what's going on. The landlord of the building next door (Sam Pirrello) wants to know. The owner of the Hanley wants to know. Tenants in the adjacent building want to know. And you have to give them as much as you can without compromising any of your work or the work of your departments. That was an eye-opener. I think our staff did a really wonderful job making sure the public safety was taken care of and the Hanley was taken down in a manner that protected the adjacent buildings. Outside of one day – I think it was Monday – I think we did a really good job communicating to the people involved. We were in catch up mode Monday, but that wasn't an excuse. I needed to make a phone call to Sam and I didn't."
On learning to appreciate the new office: "You gain a much deeper appreciation of the people who have come before you—if you agreed with them or you didn't. There are certainly a number of things that Mayor Morrissey did that I didn't like (on council), or that I thought I could do better. And I never felt this way when I was an alderman, but I now have a much greater appreciation for him; for his wife; for his kids; for Charles Box; Doug Scott; my mom and dad; my brothers and sisters, who were more alive when my dad was really in the throes of it. It is 24/7. And people say, 'Of course, that's what you signed up for.' But I think it's difficult to appreciate the 24/7 nature of this job unless you've done it."
On the difference between city council and the mayor's office: "In the horseshoe (council room), I was not aware of all the different staff members and all the work they're doing. It was easy for me to send an email and if I didn't get the response I want to be upset. But I couldn't see all the pieces working."
On how one's view of the city changes: "You look at something like the Hanley, and just the amount of time and the professionalism you see from our public safety employees. To see how much they care about their community. And Friday, we're going to be welcoming new police officers. You look out, and you see those family members, and I think you see them a little bit differently. They're going to be giving up whoever that person is: a sister, brother, husband, wife, a child. Seeing that, you feel a much greater sense of responsibility to do your job well so those folks can go home."
On the responsibility of the office: "When I use this word, I don't want it to come off like 'it's too much,' but it is an overwhelming feeling. Now, I try to stop every single time I see a police officer. And it's funny, that as a young kid I would get so frustrated with my dad. It was like, 'Oh my god, dad.' And he would pull into the parking lot, and say, 'Jim, thanks so much. I hope you're having a good day. How's your wife?' And I would think, 'My god, dad. What are you doing? Let's just go get our haircut!' I don't know if that's why he did it; I can imagine that. But it's a lot. And it's a really great job. And you find a lot more respect for your spouse. I left for work yesterday at 6 in the morning, got home at 8:15, saw Sarah and the kids for about 10 minutes. And then I had to get on the phone with the city administrator and the police chief until about 10:30. Come back: my daughter's asleep, my son's asleep, my wife's asleep. Today I left, and they're all still asleep. I don't know if I'll see them when I get home tonight. But this gives me a greater appreciation for what she does. And for me, and this is pretty unique, but a greater appreciation for my mom and dad. Six kids. I don't know how they did it."