Owl was talking on Twitter about self-checkouts. I stated that self-checkouts cost more labor per sale than an express lane. However, Twitter format is not friendly to elaboration. I have almost 6 years of experience in grocery stores. I have worked at stores with both self-checkout and stores that insisted on cashiers. I have talked with people who examined the numbers.

Self-checkouts are touted as being a cost saving measure for stores. The customer does the work of the cashier and bagger. Automation is cheaper than human labor, right? Google searching turns up a treasure trove of articles touting how cheap self-checkout is compared to a cashier. Just look at the data! I mean, look at it… if you can find it.

Here is a problem: companies that sell self-checkout machines are stingy with their data. You can find self-checkout data in a few areas: fast food, airport kiosks, banks… But what you won't find is long-term data on grocery stores (at least I could not find it).

An important feature of grocery store labor economics is sales per hour per cashier (and bagger). The money is made in the main lanes where people are buying hundreds of dollars worth of groceries on a trip. Express lanes have fewer sales per hour. At the store where I saw the numbers, sales per hour at express lanes were roughly a third of a regular lane during slow times (when cashier downtime between purchases exists) and roughly a fifth of a regular lane during busy times (no significant downtime). Even without a bagger on express, the regular lanes are more economical. This is one reason wholesaler stores often require minimum purchases to checkout.

Cashiering takes practice to do well. You make mistakes while learning. If you go to a grocery store every day and self-checkout, after a year you have as much experience as the training period of a cashier, and they are still making mistakes after that training period! Self-checkout lanes have problems, and some customers never learn to do it correctly. If memory serves, the numbers I talked to people at an old store about indicate roughly 1 in 5 self-checkout customers need attendant assistance*, and self-checkouts were express lane only in that data. Why only express? Because with large purchases most customers need attendant assistance. If attendants need to assist most customers anyway, self-checkout economics don't work. They just become very slow checkout lanes.

A store I worked for (Woodmans Food Market) declined to install self-checkouts as of summer 2005. They would not buy without seeing the numbers from machine retailers. When you look at a full year of performance, self-checkouts underperform express lanes with respect to employee time per sale. In order to keep up with an express lane cashier, you need at least 6 self-checkout stations.

So why not install 6 stations and save money? Two reasons:

One, the machines are frequently down (far more often than regular registers worked by employees who know what they are doing). If a regular cash register goes down, the cashier moves to another lane. If a self-checkout goes down, you have less capacity. Self-checkouts were not fully operational often enough that you would need at least 8 self-checkouts to compete (from the vendor Woodmans studied, if memory serves). Keeping track of that many stations is difficult, and customers needing assistance have to wait while other customers are assisted (and are not happy about waiting).

Two, the above calculation assumes full capacity. During slow times when there are not enough customers to fill all self-checkout stations, there is no advantage to a self-checkout over a regular express lane cashier. However, as a practical matter you will still need both a self-checkout attendant and an express lane cashier. During slow times having self-checkouts increases labor costs!

Vendors love to have their data on busy times with all new self-checkout machines showing cost savings, but over the long term self-checkout did not save money. Will it with improving technology? That is unknown.

So why do any stores have self-checkout? A lot of customers like it. Some hate it, but they can go to the regular cashiers. There are consumers that demand self-checkout and will go to stores because they have self-checkout. A store loses sales by not having them. In grocery economics, poor performing sale > no sale at all.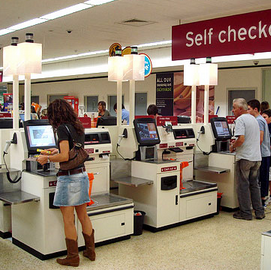 *And, no, I am not talking about an attendant pressing a "proceed" button on the attendant station. I am talking about having to go over to assist the customer.