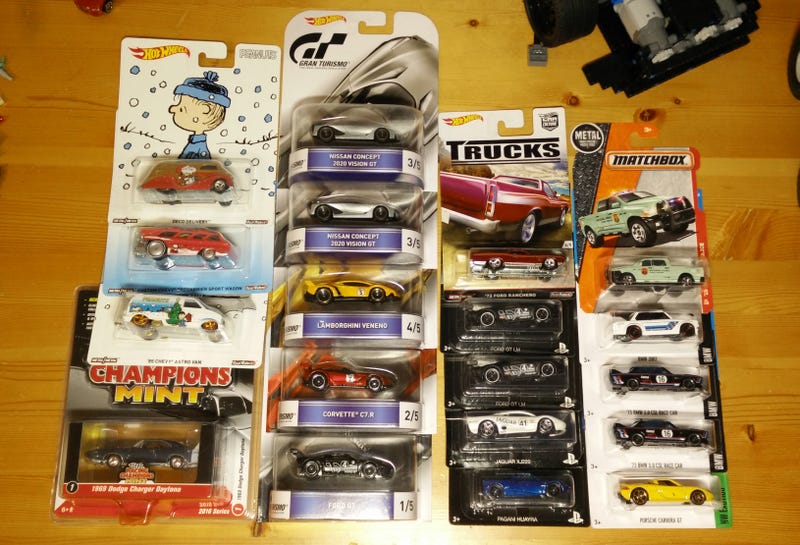 It's been a hell of a day.
I'm supposed to be limiting my 1/64 spending so I can save for those expensive 1/18's. Guess that didn't last long.
I ran around town today, hitting up Targets, Walmarts, TRU, and even Walgreens, and scored all of the above. Hunting can be so frustrating when you come up empty-handed, but so rewarding when you get results like this. The notables:
- Racing Champions Dodge Charger Daytona: found this at TRU. I thought this release was a myth until I saw it for myself. Whatever the hold up was, at least it made it into production. Looks a bit off, but I'll let you judge when I feature it next time.
- Retro Entertainment Gran Turismo set: missing the GT-R, so I might have to trade one of you for it. I grabbed an extra Vision Gran Turismo, because of the scalper Nissan fanboy in me.
- Extras shown here are up for trade. That means the Vision GT, Ford GT, and 3.0 CSL.
Speaking of extras, I will be at K-Day tomorrow to (hopefully) get my hands on a fresh case. If there's anything you guys want, let me know, because there's not a whole lot I'll be getting for myself. Not the best assortment, but I'll be there mainly for the black 'Rex.
Looking forward to hearing everybody's K-Day stories, and I'll see y'all tomorrow morning.