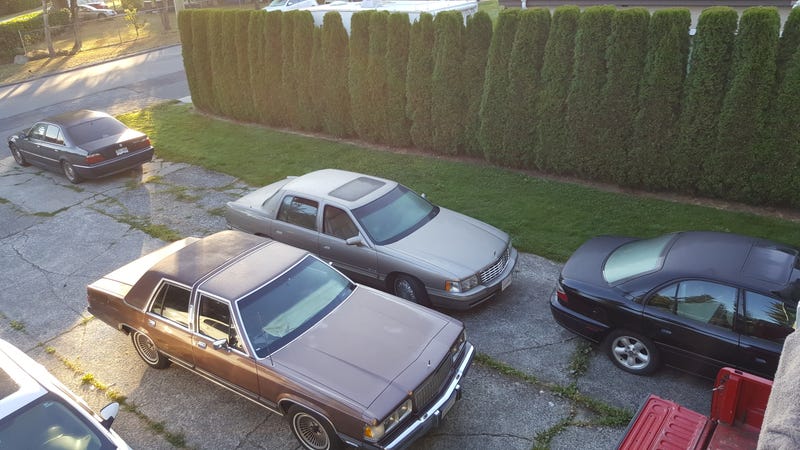 I had a short work day on Monday so I decided to come home and install a front control arm on my wifes Catera. Snapped a carrier bolt on the brake caliper. Got that out and then proceeded to get the rear bushing stuck at an angle so I couldn't get the bolt in. Then slipped a wrench and managed to completely remove ALL of the skin from my knuckle. Down to the cartilage. Threw everything into the trunk and walked away until my hand heals. Bad day.
Tuesday and Wednesday were fairly uneventful.
Driving home from work on Thursday, on the highway in the far left lane, the fuel pump on my e38 decided to give up the ghost. Managed to coast into a painted median between the hov lane entrance and the "fast lane." Sat there for 2 hours in the heat waiting for a tow truck. Luckily my passenger had picked up a 15 pack of PBR a few minutes earlier, so it wasn't all bad.

Towed the e38 home and borrowed a family friends beautiful 99 Cadillac Deville to get my wife to work on Friday morning.
So on Friday morning I drove the wife to work, then picked up the owner of the Caddy so we could go over to his old place and pick up his backup car, a Brown 89 Mercury Grand Marquis. (Oppo alert!) Handed the Caddy keys back to its owner and I took the Merc to work.
About an hour later my buddy calls me up to report that when he fired up the Caddy to go to work himself, the ac compressor bypass pulley he had installed decided to break free and puke itself onto the ground. Serpentine belt snapped in the process. Caddy down. Awesome.
Saturday morning I take the Grand Marquis to work. On the way home I stop for gas and the car refuses to restart. Acts like it has a dead battery. I pop the hood to find both terminals loose and all of the wires on the starter relay just hand tight. I wiggle them a bit while my passenger twists the key and the car fires up. As soon as I get home I pop the hood, grab the socket set and proceed to watch as the nearly 30 year old plastic on the starter relay crumbles to dust. Luckily I have been able to hot wire the car from underhood since then because the relay I ordered won't be in until after 2pm today.
What's next Oppo? Dare I even ask?