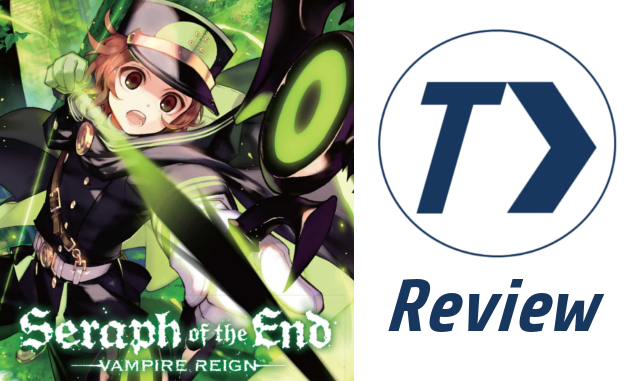 Following the emergence of a great virus that killed almost the entire human population outside of the children, vampires round up humans as livestock for their blood. One of these captured children, Yuichiro Hyakuya, attempts to escape the vampire city, but in the process his family is killed by a vampire noble. Yuichiro alone escapes and is taken in by the Japanese Imperial Demon Army. He vows to become strong in order to kill the vampires and avenge his siblings.

After the battle for Shinjuku concludes, Yuichiro has no memory of his transformation, remembering only that his brother Mikaela is alive and with the vampires. He wants to go after him, but decides that it is more important to become stronger and is promised by Guren that he will be taught about demon manifestation and possession. However, the Hiragi family has been watching him...

Seraph of the End is a series that would most likely appeal to fans of other action-packed suspenseful shounen works.

Seraph of the End has been a relatively unique series for me because of how I have transitioned from disliking to greatly enjoying it, and volume 5 has most definitely been the strongest in the series for me so far. This progression has been primarily due to much of what I found wrong with the series before having been rectified or no longer being relevant (see my review of the anime for my full thoughts on the adaptation of the first four volumes). The 5th volume has continued to take some of the more positive elements and utilize them, such as the members of the Moon Demon Company developing as a team.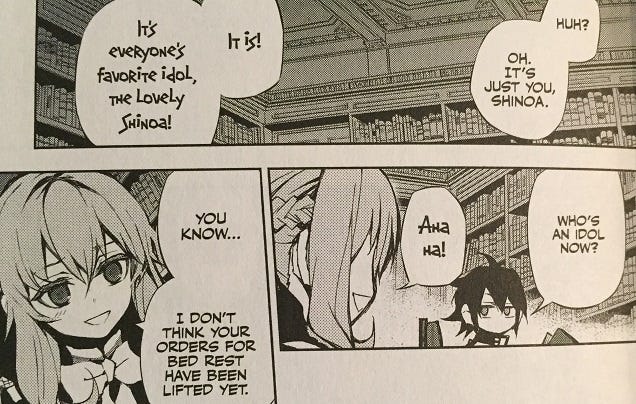 Humorous and serious interactions within the group are entertaining and help draw in readers, despite the fact that many of the members taken by themselves have little to distinguish their characters as individually engrossing. Additionally, while I wouldn't necessarily call the illustrations of Seraph extraordinary, the layout of the panels continues to utilize the drawings to their maximum potential, as oftentimes two pages will be used at once to create more unique and dynamic storytelling.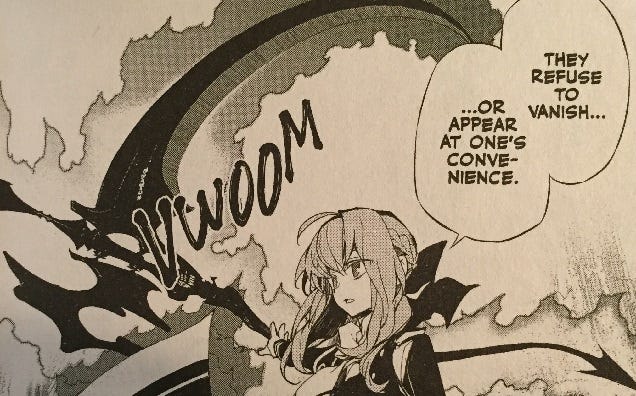 However, what made me enjoy the 5th volume more than previous ones was how it elaborated on what I saw as potential strengths in the series, provided they would be utilized. For one, we get treated to a view of the leaders of the humans (at last), and the higher-ups of the Hiragi family of rulers do not disappoint: they are hardly the glorious white knight leaders shounen manga is often all about. In fact, they seem to be set up to be just as much villains as the vampire nobility. That's not to say that moral ambiguity is something unheard of in manga. Hardly. It's more that while the primary cast seems to be situated on the side of good, the people they more or less work for are evil and have complex reasons behind their actions that have begun to be hinted at.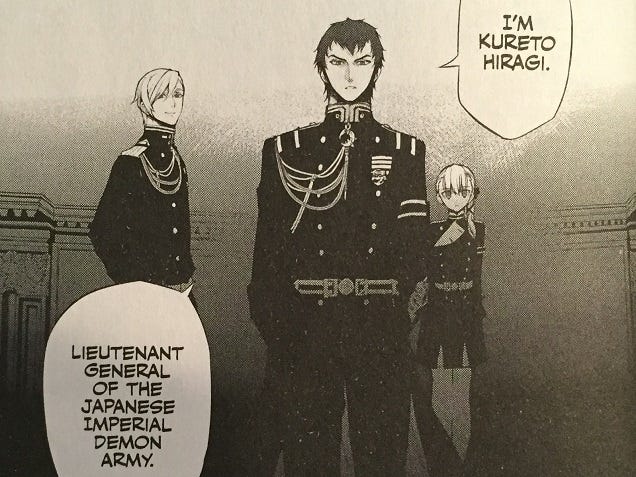 It's not just the newly unveiled leadership that begins to answer some questions, however. One of the reasons that Seraph was a difficult series for me to get into initially was because the premise felt slightly shaky and was difficult for me to accept. Fortunately, the writing has begun to improve, and while there was little room for creating plot holes in this volume, the writing did manage to begin to provide explanations to character motivations that extended beyond 'vampires killed my family', a backstory that has previously been overused and uninteresting. Of course, I won't go into spoilers, but things are hardly what they seem for several members of the Moon Demon Company.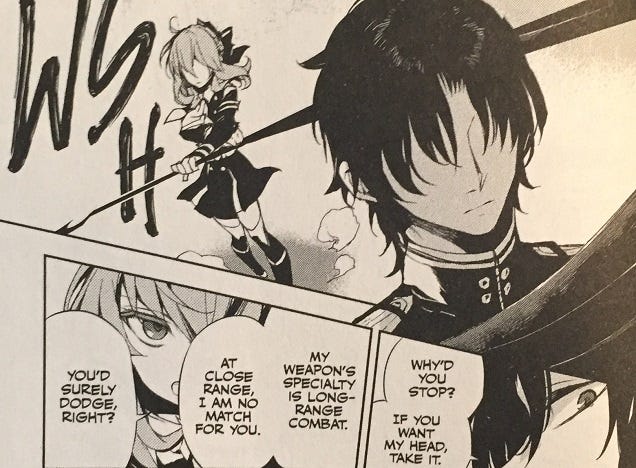 All of these points lead to a slight change in my own view of Yuichiro Hyakuya: he doesn't feel as much as one of those stupid, over-powered, hotheaded male shounen protagonists that I've grown tired of. Of course, that's not to say that I will feel the same way in future volumes, but for now he seems to have been substantially knocked down a peg, after being taught a couple of lessons in humility both from the top brass and even from Yoichi, who has gained mastery over his demon gear substantially faster than Yuichiro, as it turns out.

Although Yuichiro has 'improved' in this volume, it is worth noting that my view of him improving is mostly that he has had to take a few hits. Yuichiro is still an idiot, and although he has grown closer to his squad, he is hardly an engaging protagonist and behaves in the same mindbogglingly dumb way that he is known for. This of course ranges from challenging people obviously stronger than him to failing to grasp even the most simple emotions of his fellow squad members.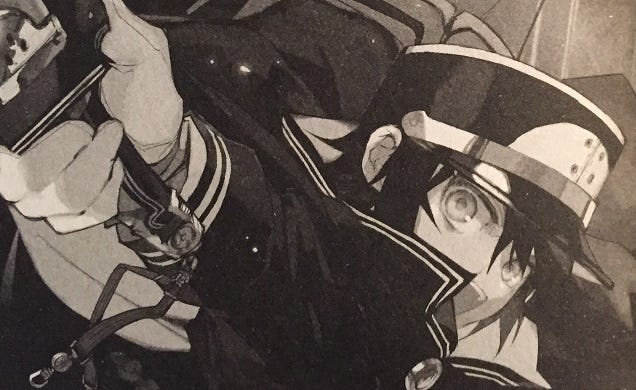 The one other complaint I have about the 5th volume is that while we are beginning to be provided with answers, in truth what we are learning just creates more questions. I'm assuming that most of these will be at least partially answered down the line in future tankobon, but it definitely both made the volume feel short and made it difficult to play the waiting game for the next volume, which will not be out until September.

Seraph of the End's 5th volume is an excellent addition to the series. Although the writing has been sub-par in previous volumes, the quality has improved greatly. The story benefits both from new, morally ambiguous characters as well as the relations between characters that have previously be introduced, and although Yuichiro still leaves much to be desired as a protagonist and most of the new answers provided merely spawn new questions, I highly recommend giving this volume a read if you are a fan of the series, and would even suggest it to others who may not have been quite so convinced by previous volumes.

Seraph of the End Volume 5 was published by VIZ Media on June 2nd, 2015. Authored by Takaya Kagami and illustrated by Yamato Yamamoto, the series is currently ongoing and published by Shueisha's Jump Square imprint, as well as VIZ Media's Weekly Shounen Jump in North America. Seraph of the End received an anime adaptation by Wit Studio in the Spring 2015 season, and will have a second cour of episodes this Fall.
For more reviews, keep an eye on AniTAY as well as Taykobon, our page for reviews of manga and light novels. You can also follow us on twitter @taykobon for more updates! If you've read this work or have any questions or comments, we would love the hear from you in the comments below!
*Copy provided for Taykobon by publisher
If you enjoyed this, you should check out our reviews of: