By Max Claussen (@ClausInCharge)
You are a young, broke college student in East Lansing in need of transportation to get through the relentless, constantly changing nature of Michigan weather. What do you do? Well, you certainly don't do what my buddy Nate decided to do. Last spring he paid just about eight grand for possibly one of the worst years for the Ford Explorer lineup, and it had just under 120,000 miles on it.
Here it is in all its glory…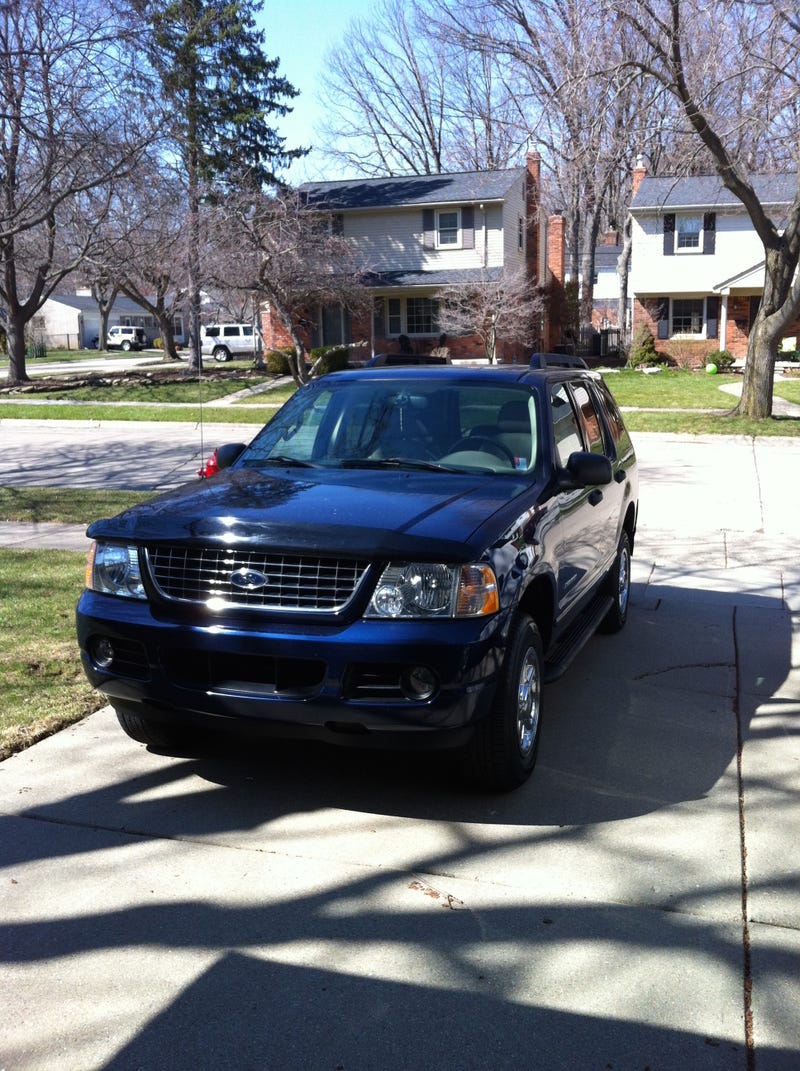 Being from Metro-Detroit, I absolutely love Fords, and my dad used to make a living working for them, but this particular one looks okay on the outside, feels like a port-a-potty if the seat had leather on the inside, and drives like something you'd find in the port-a-potty toilet bowl, especially if the port-a-potty was at the Detroit Electronic Music Festival. How absurd! I mean, my car is a POS, but my great uncle gave it to me free, and it only had just over 80,000 miles on it, with a Bluebook value of around $3000, and it did me a lot of good for over 2 years, about 4 times as long as the car apparently worth $8,000. While his plan A to ask around his family for a used car ultimately failed, you have to wonder what in the hell was he thinking with his plan B?!? I knew from my experience searching for a replacement for my '97 Mazda 626, that I could either 1) find a vehicle that works almost like new for around $8,000, or 2) find something that was just as much of a disaster for less than even a quarter of the price of what Nate paid for his. With that being said, I did what Nate, not being into cars, didn't do, and that was think long and hard about what the worth of a used car really was.
In 10 minutes I found a few Fords without the trim and back windshield falling off, which also did not have cracked wheel bearings while sitting in the sales lot by the way. Nonetheless, when it comes to Ford SUV's, I personally I like Ford Escapes, so I began searching for used Escapes around the same year on Auto Trader. I found a used 2006 Ford escape XLT, with about 100,000 miles on it and 4 wheel drive. The video advertisement has a cheesy voiceover, but I can clearly see that it looks a million bucks better than Nate's. Just like his '05 Explorer, it has a lot of space inside for road trips and other shenanigans, and has the drivetrain to withstand the arctic-like, pothole-lined roads of Michigan's infamous winters. I even found one with 110,000 miles with a sports package from the same year, and an '03 with under 85,000 miles from a seller with a great approval rating on this particular used car website that I am searching on. All three of these cars are in great condition, and on average they would set you back about $6,800, which on average would have saved Nate $1,200, or in my case, 5 credits at one of the most expensive universities in the Midwest. In addition, while "the older the car, the better" isn't a commonly used phrase while trying to attain a solid vehicle, I found several Ford SUV's from the early 2000's that were easily under 3 grand, and some were even under 2, AND at least half of them had under 200,000 miles and 4 wheel drive. So if you're like Nate, and love Ford SUV's and are looking to buy one, just know that you could get something a lot better for 8 grand, or the same and just as tragic for a lot less than $8,000. A LOT less. He also loves trucks more than anything out there. I searched for Ford F150's and tons of them from the early 2000's and back were selling for under 8 grand. Imagine that, paying money for something that you like and enjoy driving, that would be something else. Not to mention, I found one from the early 1990's for a low, low price. "Well Max, it's from the 1990's, of course it's going to be cheap." "But don't you want to know how cheap it is?" I ask the imaginary reader. "Sure", the reader says reluctantly. "About 900 bucks…"
I rest my case, your honor.
I mean, ok, what happened to my buddy is a rarity when buying a used car, but people absolutely do get ripped off when it comes to buying used cars, and personally, I hate nothing more than an unfulfilled promise. Ever since I realized I had been ripped off while buying some fake Jordan shoes in Beijing, China when I visited in 2009, I've always been über pessimistic and skeptical about the price of things. When it comes to cars, however, it can get very serious, and he hadn't been ripped off in his life until he lost $8,000 buying some piece of junk. My point is, if you put a young guy like Nate, in need of a car, but know little to nothing about buying them, in a room with a sleezy bastard who knows how to hustle and sell anything to anyone, you can get cheated out of finding a decent ride, or if you don't give a rats @$$ about how well it works, over $7,000.
He likes to call the car "his baby". I get so frustrated when says things like that, as all of the engine service lights, dials, and beeping noises cry out for help, and not to mention it sounds like John Bonham's drum solo from "Moby Dick" under the hood when it's running.
You call that your baby?! I'm not saying you need to have a car worth hundreds of thousands of dollars to be in love with it, but comparing what you could get for $8,000 to what Nate bought is like comparing a loving wife to a hooker. The former costs a good chunk of change, yes, but has the potential to do a lot for you in the long run, like give you a family, support, direction, etc. The latter gets you from point A to B (sometimes), costs even more money once you add up all of the one night stands, and will most likely end up giving you a sexually transmitted disease. Reader, you own me a Bugatti if you can't guess which one Nate's car is.
In conclusion, if that's your baby, Nate, then I am surely pro-choice when it comes to automobiles.
Claus, out.